...Virna Lisi vogliamo ricordarla attraverso le parole del "Guardian", che da buon giornale inglese, raramente disposto ad elogiare l'Italia e gli italiani, è proprio per questo meno sospettabile di "coccodrillismo giornalistico. A noi di Virna Lisi mancheranno la sua voce da unghie sulla lavagna, l'ironia che trapelava da ogni suo sguardo e da ogni suo gesto, l'anti-divismo...
Actor who tired of her 'new Marilyn' image and left Hollywood for success in Europe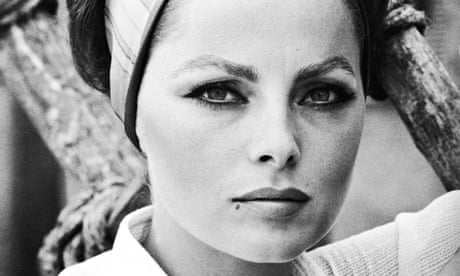 Virna Lisi gave a performance of passionate credibility in Stanley Kramer's "The Secret of Santa Vittoria" (1969) (Source: John Francis Lane - The Guardian)
In the 1960s, like many other female Italian actors of the time, Virna Lisi was tempted to try her luck in Hollywood. However, after films in which her co-stars included Jack Lemmon, Tony Curtis and Frank Sinatra, she returned to Europe, where she had painstakingly built up a reputation, particularly in Italy and France. It was in these countries that Lisi, who has died aged 78, had the opportunities to show her mettle.
She gave a powerful performance as Friedrich Nietzsche's neurotic sister, Elisabeth, in Liliana Cavani's controversial Al di là del Bene e del Male (Beyond Good and Evil, 1977). Her portrayal of the scheming Catherine de Medici in La Reine Margot (1994), Patrice Chéreau's study of religious carnage and romantic intrigue at the French court at the time of the St Bartholomew's Day massacre, brought her the best actress award at Cannes that many had expected to go to Isabelle Adjani, in the film's title role.
She was born Virna Lisa Pieralisi in Ancona, on the Adriatic coast, where her father had a marble exporting business. When the family moved to Rome in the early 1950s, Virna was doing well at school and there were plans for her to go to business college. However, in 1953, a friend of the family, the singer Giacomo Rondinella, persuaded the producer of the film he was making to give her a test, and she got the part. The film, E Napoli Canta (And Naples Sings), would be soon forgotten, but it began a career for Lisi, who appeared in more than a dozen movies over the next two years.
She then had her first leading role, in a film by one of the emerging generation of leftist directors, Francesco Maselli – La Donna del Giorno (The Doll That Took the Town, 1957).
While appearing in a Roman theatre production in 1959, Lisi was persistently courted by an architect, Franco Pesci. They married in 1960 and soon had a son, Corrado.
Meanwhile, she appeared with the two musclemen heroes of the moment, Steve Reeves and Gordon Scott, who played the twins of early Roman legend, Romulus and Remus, in Sergio Corbucci's Romolo e Remo (1961). Even in this historic spectacular, she was able to bring depth to a glamorous but spineless heroine invented by six scriptwriters (including Sergio Leone). She later commented good-humouredly: "I weighed less than 50 kilos at the time, but the muscular Steve Reeves dropped me at the first take when he had to carry me into Romulus's tent to seduce me."
Lisi made several films in France, including Les Bonnes Causes (Don't Tempt the Devil, 1963), directed by Christian-Jaque, who then cast her in the role that brought her first international attention, in La Tulipe Noire (Black Tulip, 1964). As the heroine to Alain Delon's dashing swashbuckler, she combined sexiness with dexterity. Shortly afterwards, her first Hollywood offer arrived, to play opposite Lemmon in Richard Quine's tongue-in-cheek romantic comedy How to Murder Your Wife (1965), for which the blonde Lisi was given a platinum gloss.
Though she enjoyed her American experiences and appreciated the professionalism she encountered, Lisi soon tired of the "new Marilyn" image foisted upon her. She accepted becoming a cover girl but refused a lucrative offer to pose for Playboy. Her two other Hollywood films were Assault on a Queen (1966), with Sinatra, and Not With My Wife, You Don't! (1966), with Curtis and George C Scott.
Returning to Italy, she turned down Dino De Laurentiis's offer to play Barbarella (the role that Jane Fonda accepted), preferring instead to appear in Pietro Germi's scintillating satire on Italian provincial mores, Signori e Signore (The Birds, the Bees and the Italians, 1966).
In 1968, she was paired with George Segal in Il Suo Modo di Fare (Tenderly, or The Girl Who Couldn't Say No), an offbeat and sophisticated romantic comedy written and directed by Franco Brusati. In Stanley Kramer's outlandish The Secret of Santa Vittoria (1969), alongside bombastic performances by Anthony Quinn as a combative mayor and Anna Magnani as his rancorous wife, Lisi gave passionate credibility to the local countess who cedes to the amorous advances of Hardy Kruger's commandant.
She starred with William Holden in the weepie L'Arbre de Noël (The Christmas Tree, 1969) and appeared in a British-produced film, The Statue (1971), alongside David Niven, "the co-star with whom I felt most at ease".
For Alberto Lattuada's La Cicala (The Cricket, 1980) she had to put on weight to play a grotesque singer, contrasting with the nymphet played by Clio Goldsmith. She starred in one of Luigi Comencini's last and most underrated films, Buon Natale, Buon Anno (Merry Christmas, Happy New Year, 1989): she and Michel Serrault were an ageing couple who rekindle their passion.
After her success in La Reine Margot, she won further praise as the grandmother-narrator in the screen adaptation of Susanna Tamaro's bestselling novel Vai Dove Ti Porta il Cuore (Go Where Your Heart Takes You, 1996). This was directed by Cristina Comencini, Luigi's daughter. The two women went on to make a much better film, Il Più Bel Giorno della Mia Vita (The Best Day of My Life, 2002), in which Lisi was a mother coping with the amorous problems of her three grown-up children; her final role came in Cristina's comedy Latin Lover, due for release next year.
Lisi received career achievement prizes at the David di Donatello awards and the Venice film festival, and in later years did much television work.
Franco died last year. She is survived by Corrado and three grandchildren.
• Virna Lisi (Virna Lisa Pieralisi), actor, born 8 November 1936; died 18 December 2014